Everyone who makes pottery uses different tools, but the main materials are clay and glaze. Since I live in Colorado, there's an amazing clay manufacturer here that makes their own versions of the name brand clays. Rocky Mountain Clay makes a clay that's identical to BMix from Laguna, but it's better because it's fresh. My first order from them, when I went to pick it up, the guy at the front said it had been made that same day!
For glazes, I mostly use Amaco with some Mayco, Opulence, and Midnight Ceramics thrown in. I'll start making my own soon, but I try to keep my obsessions to one at a time.
I like using simple tools, especially tools that can be used for multiple things, but my favorite thing that I use is a Giffin Grip. When I made pottery regularly back in California, the thing I hated to most was centering a leather-hard piece and sticking it down with clay to trim. If I wanted to take it off the wheel to check the thickness, I had to center again and re-stick it…or worse, throw a chuck! I know these are "traditional" ways to trim, but it was literally my least favorite thing. So I got a Giffin Grip and now I LOVE trimming. Boom.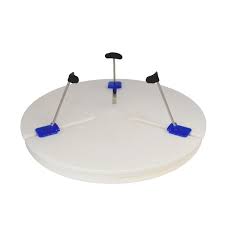 The other specialty tool I'm in love with is a bottom setter. Yes, I could have made one, but again, one obsession at a time. I got this for Christmas and I use it every time I throw. It "sets" the bottom to exactly 1/8 inch so I don't have to use a pin tool and it helps me to open the form, something that was sometimes painful after having carpal tunnel surgery.
Besides these 2 tools, everything else I use is standard and simple: drill for recycling clay, pin tools, sponges, rolling pin, cookie cutters, etc.